Taking Back America
From The Guardian
By Rose Hackman     |    Sunday 17 August 2014 12.00 EDT
City police chief has encouraged residents to arm themselves as stark racial disparities in 'shoot first' laws become clear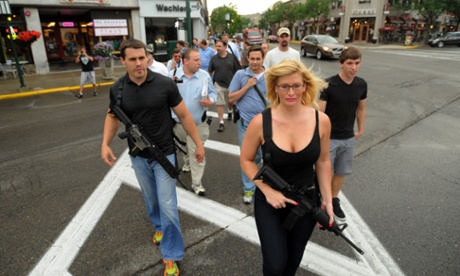 In 2012, Michigan gun enthusiasts rallied in support of 18-year-old Sean Michael Combs, of Troy, who was arrested in Birmingham while carrying a rifle. Photograph: David Guralnick/AP

Detroit police chief James Craig – nicknamed "Hollywood" for his years spent in the LAPD and his seeming love of being in front of the camera – has repeatedly called on "good" and "law-abiding" Detroiters to arm themselves against criminals in the city.
His words have not fallen on deaf ears.
Patricia Champion, a 63-year-old lifelong Detroiter, a grandmother and retired educator, decided to get her concealed pistol license – a CPL – two years ago after her son said he was increasingly worried for her safety. Champion, a resident…
View original post 750 more words